The moment I was waiting for…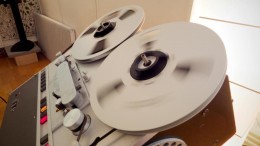 A couple of weeks ago, Lasse and I made the final song mixes for the album. For the first time we could listen to all the songs that will be on the album all together. We started playing with the track order for the album and soon agreed on how to present the songs. Although we felt pleased with the result, the real sensation of completion wasn't there. It felt more of some kind of anti-climax.
Yesterday Lasse went to Thomas Eberger Stockholm Mastering to make the final touches to the sound of the songs, and of course to adjust them so they will sound well together as an album. Later in the evening he received the files and sent them to me. We talked on the phone about the mastering session and the result, we hung up and I started listening to the album. And then it happened.
What came out of the speakers was something different than the child I hade left with Lasse two weeks ago. A mature sound of an album, with punch, warmth and gravity, where the songs popped out of the speakers and warmed my heart. Finally I got a feeling of completion, of having accomplished something great, a piece of art, together with my friend Lasse, and of course all our wonderful collaborators who's singin on the album. I felt proud, grateful for being part of it and felt so eager to show you and the rest of the world what we have. The moment i was hoping for, and I will save it for myself as a highlight of the Bus Stop Dreams-story.
Yesterday they glued everything together, with adjustments in frequencies and volumes as before, but one thing that certainly also added something extra to the entire sound, was that Thomas at Stockholm Mastering recorded everything on a tape-recorder. The type of tape-recorder they used way back when, before the age of computer recordings. This added something subtle but still clear to my ears; an analogue vibe that roughed up the edges and made the songs sing.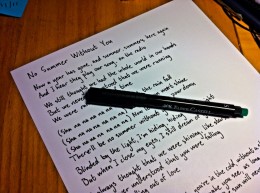 The album is completed musically, but of course, there are things left to do, before we can release it. As we have told you before, we will release it both digitally and as a CD-album, so Lasse is working with the design of the cover and booklet, while I am texting all the lyrics and info. After that is ready we'll have it manufactured and set a date for the release.
We do want to show you something before this, so we thought that we would show you the last song on the album tomorrow, "Say You Will". You'll get to hear a new song and also get a sense of the vibe from the album. We'll post it here and on Facebook and send it out to our mailing list as a download, which you can join for free if you like. Well, see you tomorrow then. 🙂 /Pär